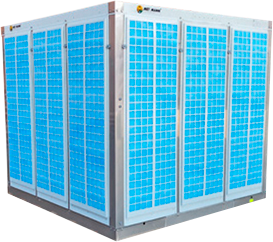 At the forefront of technology
At MET MANN we are manufacturers of industrial and professional evaporative coolers. We have been manufacturing and customizing industrial evaporative cooling solutions since 1959, improving air conditioning of your facilities and helping you to save energy efficiently.
MET MANN industrial evaporative coolers use the simple technology of evaporative cooling with total success, which allows to control the temperature and guarantee the cooling of industrial buildings, farms, greenhouses and professional or sports infrastructures.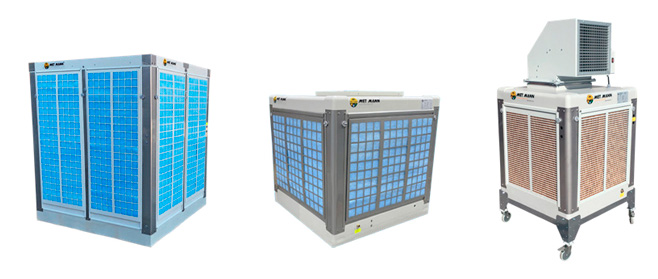 MET MANN EVAPORATIVE COOLERS
THEY WILL HELP YOU IF YOU ARE

You need to cool the facilities of your company

You are looking for quality equipment to offer to your clients

You need custom designed, customizable and quality equipment for your project
HOW DOES EVAPORATIVE COOLING WORK?
Evaporative air conditioning consists of the evaporation of water by passing a certain volume of air through panels moistened with water. This causes a decrease in air temperature and an increase in the degree of humidity, the treated air is introduced inside the room reaching very pleasant and comfortable temperatures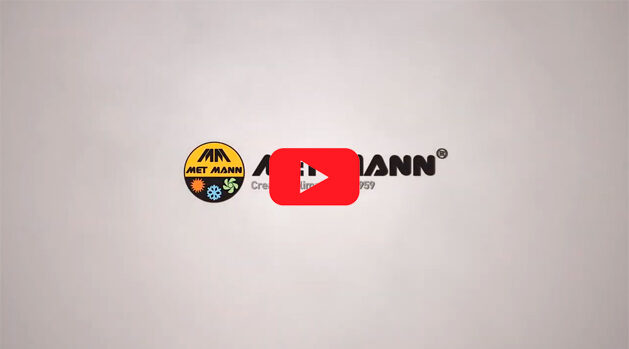 THE ADVANTAGES OF MET MANN EVAPORATIVE EQUIPMENT 

SAVE UP TO 80% MORE COMPARED TO TRADITIONAL AIR CONDITIONING SYSTEMS
The electrical consumption of our equipment is minimal and requires a much lower investment than that used by other similar solutions. This advantage is very interesting for industrial buildings or workplaces in which the activity is continuous. Evaporative cooling solutions

EVAPORATIVE COOLING IS AN ECOLOGICAL SOLUTION
The cooling system used by our industrial evaporative coolers is totally ecological. They do not use any type of refrigerant gas and the electrical consumption is minimal compared to traditional air conditioning systems. For its operation only water from the water supply network of your building is necessary. How Evaporative cooling Works

MAXIMUM QUALITY, DURABILITY
AND EFFICIENCY
Our equipment is designed with the best materials, which guarantees greater durability and high reliability, reducing temperatures between 5ºC and 15ºC in your facilities without the need to close doors and windows. Reliable cooling.

MAXIMUM RELIABILITY AND
MINIMUM MAINTENANCE
Our wide range of evaporative equipment requires practically no maintenance and, due to its design and components, they are of enviable reliability. Installation of Evaporative Air Conditioners

CUSTOMIZED INSTALLATIONS FOR EACH CASE
You should not adapt your facilities to MET MANN evaporative equipment, MET MANN evaporative equipment adapts to your facilities. We have the widest and customizable range on the market in industrial evaporative cooling. Tell us about your case and we will offer you a personalized solution. Improve comfort and cooling.

ASSURED COMFORT, CLEAN
AND FILTERED AIR
Our evaporative coolers help to renew the air inside your workplace and provide fresh, clean and perfectly filtered air. Your work environment will be less prone to heat stress and the indoor air will be renewed by outdoor air.
I WANT TO GET THE IDEAL TEMPERATURE IN MY FACILITIES
IN WHICH SECTORS IS EVAPORATIVE AIR CONDITIONING RECOMMENDED?
| | |
| --- | --- |
| INDUSTRIAL SECTOR | FOOD INDUSTRY |
| CHEMICALS | TEXTILE |
| GRAPHIC ARTS | AUTOMOTIVE |
| WAREHOUSES | AGRICULTURAL INDUSTRY |
PUBLIC SECTOR AND SERVICES
SPORTS ENCLOSURES

HOSPITALS

MARKETS AND WHOLESALE MARKETS

EDUCATION CENTERS

OTHER PUBLIC BUILDINGS
(FIRE STATIONS, GOVERNMENT BUILDINGS …)
We adapt the air conditioning solution to your industry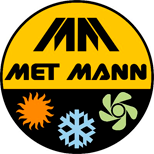 At MET MANN we have the most complete range of evaporative coolers with evaporative air coolers capable of generating fresh and natural air from 5,500 to 65,000 m3 / h

All our coolers are 100% manufactured in Spain. From our facilities in Manlleu (Barcelona)

We have the ability to customize each installation and each part thereof (finishings, controls, infrastructure assembly, etc.)

We always use the highest quality parts, ensuring reliability and prolonging the useful life of our equipment.

We are manufacturers. This means that we know 100% our product and its capabilities, which allows us to ensure its quality.